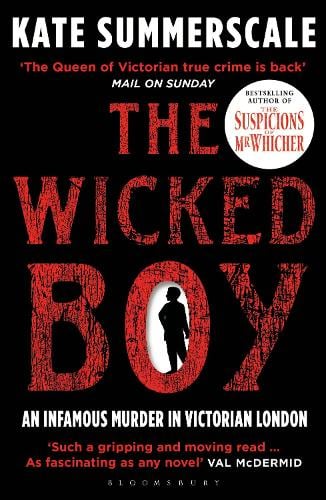 The Wicked Boy is a non-fiction book about Robert Coombes, a 13-year-old boy who is arrested in 1985 for killing his mother. This has all of the components I thought I would like: it's set in Victorian England, it's true crime, it's a crime that can lead to lot of discussion/social commentary. My problem was that I found this book quite superficial, and I feel like Summerscale really only grazed the surface of all of the interesting things that could be said about a 13 year old being tried for murder. Though a very detailed and interesting summary of the crime, trial and Coombes' life afterwards, Summerscale rarely if ever injects judgement or opinion into the writing. This meant that it came off as an almost purposeless book – I left it thinking it was very interesting but I wasn't sure what I was supposed to have gained by the end?
This all seems very harsh for a book I've rated 3.5 stars. I still think Summerscales' narrative non-fiction and storytelling ability are very good, and she has still created a fascinating account of this crime and Coombes' life. As with the other books of hers that I've read, it was meticulous and well-researched. I just didn't find it as enjoyable as her other Victorian true crime The Suspicions of Mr Whicher or her nonfiction book about a ghost hunter in the 1930s, The Haunting of Alma Fielding.
For more of my reviews, connect with me on Goodreads.
For pictures of pretty books, follow me on Instagram.